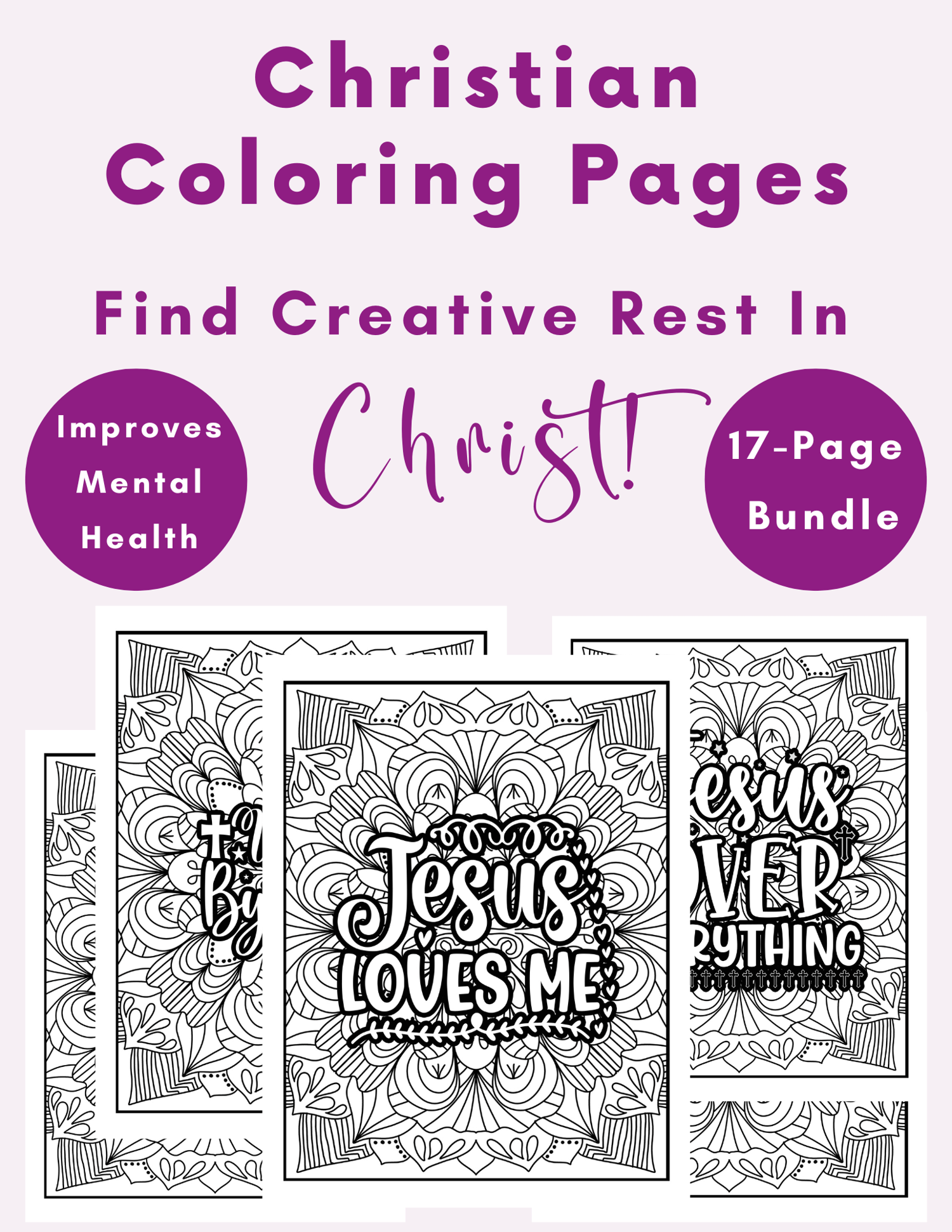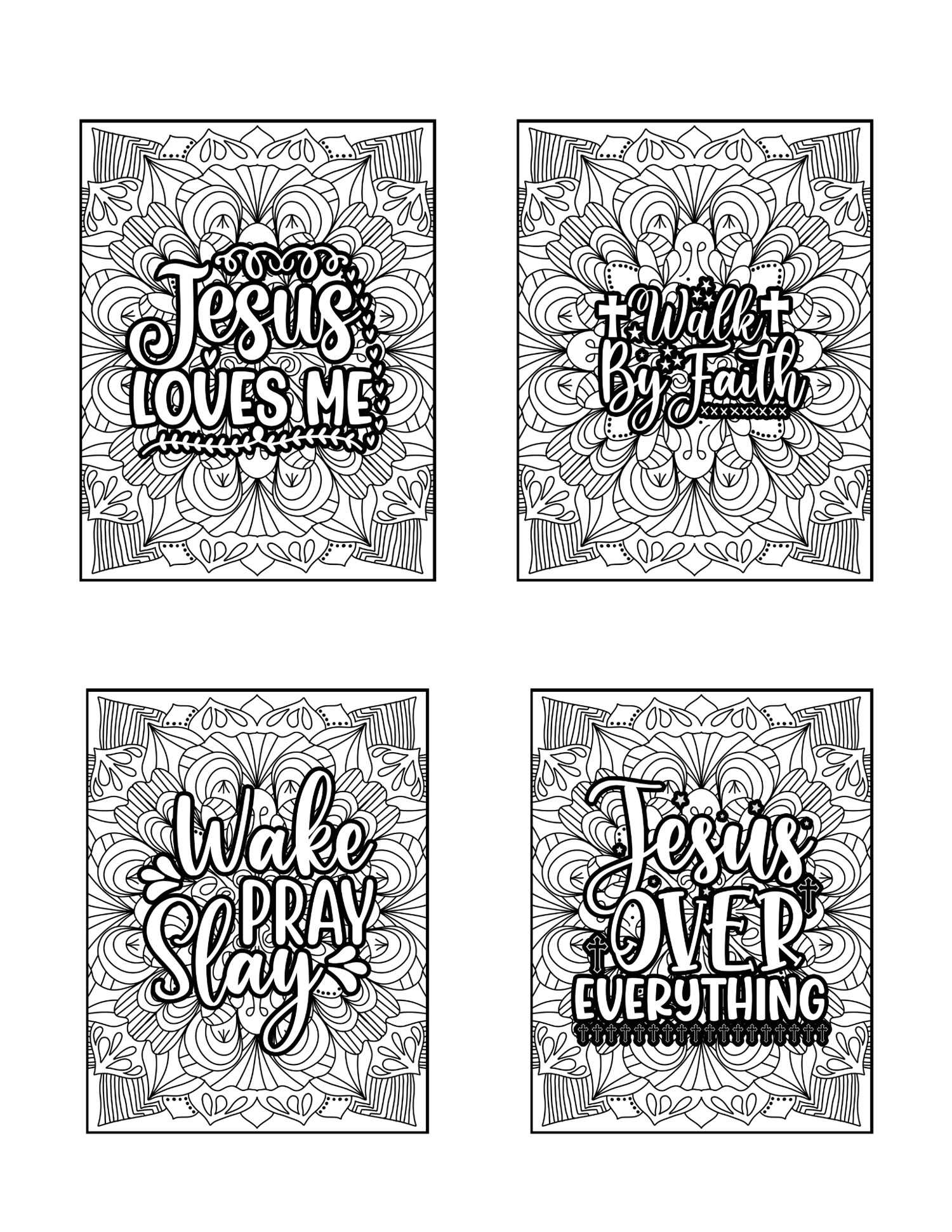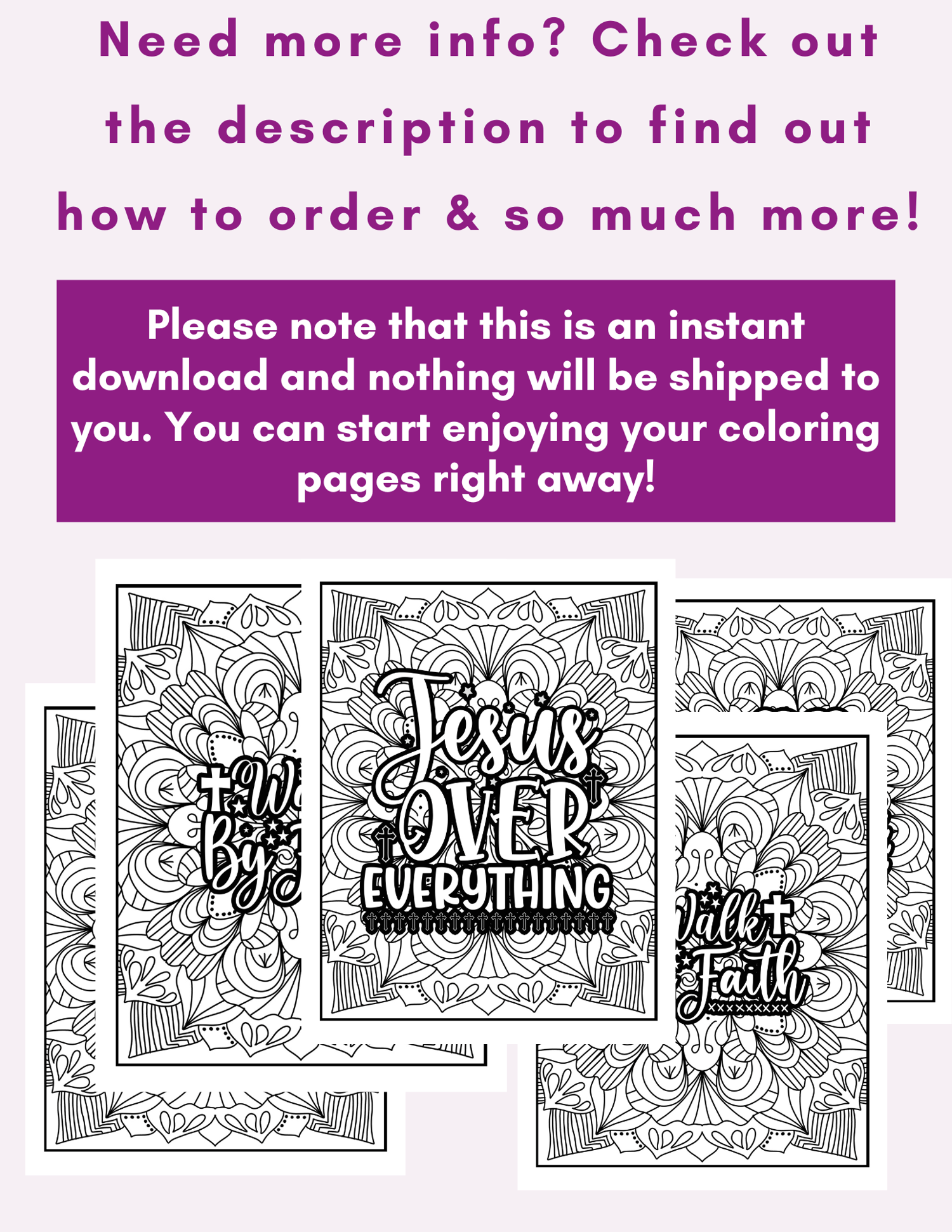 Printable Faith Coloring Pages | Christian Coloring Sheets To Connect With Christ & Relax Your Mind | Instant Download!
On Sale
$1.99
17 Printable Faith Coloring Pages To Help You Connect With Christ & Find Rest From The Stresses Of Everyday Life
Looking for a way to spend some creative and relaxing time with Christ? Do you love coloring and want to find a way to do it as a form of worship? Then look no further than our beautiful Christian Coloring Pages! These 17 printable faith coloring pages are the perfect way to bring the joy of Christ into your life! We all know the benefits of setting aside time for relaxation & self-care. Our mental health depends on it! These 17 beautiful coloring pages are accompanied by words of faith and inspiration designed to help you focus on the positive, relax your mind, and dwell on positive Christian affirmations.  It's a great way to relieve stress and calm anxiety. The coloring pages come with inspirational Christian sayings, words of encouragement, and fun designs. All of which improve mental health in children and adults alike. Coloring has been shown to reduce stress and anxiety as well as give you better focus and sleep! And what better to color than positive Christian phrases that uplift you and glorify God?So whether you're looking for some stress relief or just want to spend some time in the presence of our Lord, these coloring pages are perfect for you. Reflect on God's love as you create a colorful masterpiece. Plus, coloring is a great way to boost your mental health and destress from the world around you. So why wait? Download your copy of these Christian Coloring Pages today!

What you get:
- 17 beautiful black & white faith coloring sheets for adults or children in PDF format
What these printable coloring pages say:
Amazing Grace How Sweet The Sound:


Jesus over everything:




Daughter Of The King

Walk by Faith; Grace Wins; Faith, Family & Softball; Wake Pray Slay; Walk By Faith; Keep The Faith; Jesus Over Everything; Jesus Loves Me; Jesus & Football; Faith Over Fear; Faith Over Fair; Faith It Till You Make It; Grace Upon Grace; Be Fearless;
Ways To Use These Coloring Sheets:
-
Print these coloring sheets out and turn them into a book- Print and add them to your prayer or Bible study journal- Color them digitally using the Paint software or Photoshop- Print them out professionally, color them, frame them, and hang them on your wall! - Print them and use them for Sunday school or Vacation Bible School- You can print The Creative Rest Christian Coloring Book out and color the pictures with either markers, crayons, or pencils. So many possibilities! Click "add to cart" to get started!


More About The Healthy As You Can Store!
Hi, I'm Nicky & I'm the owner of Healthy As You Can. I create digital products for women who want to become a better version of themselves. If you want to be healthier physically, financially, spiritually, or mentally then I pray that you will find planners and journals that will motivate and inspire you to do just that! Please keep reading to find out more about our store policies
How To Pay For Your Products
Paying for your items is super easy and secure! You can either use PayPal or a debit or credit card! 
How Many Times You Can Download Your Product
2 TIMES 
More Product Details
Size: Letter size Format: PDF that you can print at home
How To Order
Click the add to cart button and go through the ordering process. Once that is complete you will get a PDF of your faith-based coloring pages 
Shipping Information
Want faster shipping than Amazon? What's better than 2-day shipping? Getting your product within minutes?With this digital download, as soon as you make your purchase, your product will be available to download instantly! That's because this is a digital download so you don't have to wait for anything to be shipped to you!
How To Print - Important 
1) Once you download your planner to your computer, open the PDF and click the printer icon.2) Make sure your print options are set to letter size and fit to printable area. That's very important!3) Press print and enjoy! If something doesn't turn out right please email me at the address below so I can help you!
Have questions? 
Please do not hesitate to contact us anytime at contactus@healthyasyoucan.com 
Instant Digital Downloads
Most of the items in my shop are Instant Download. After you have completed your purchases, you will be automatically taken to the purchase page, where you will be able to download your purchased files. There's no waiting time.  Due to the nature of digital downloads, all sales are final. No physical items will be shipped. But if you have a problem with any of my products please email me at contactus@healthyasyoucan.com and let me know so we can find a solution
Colors
Please keep in mind that colors on a monitor may vary slightly from how they appear in person or how they display on one viewing device to another due to the color calibration of your device or monitor. We try to ensure that the color of the designs you see on the listing sample is the colors you will receive with that particular design. For the most visually stunning final results, we recommend printing the pages using high-quality paper, such as card stock
Returns & Exchanges
Due to the nature of digital downloads, all sales are final. It's not possible to cancel, return, or exchange. We do want all of our customers to have the best experience, so if you run into any issues or concerns, please do not hesitate to reach out to me.
Personalized Items
Want a more personalized planner? Contact me (contactus@healthyasyoucan.com) and I will see if we can work together to create what you want (a surcharge will apply). 
Terms Of Usage
This work is copyrighted© by Healthy As You Can. This purchase is strictly for non-commercial, personal use only. You may print and design in your home, business, or a public place but may not resell, reproduce, distribute by electronic means or profit in any way from the design.Thanks for reading our shop policies! If you have any questions or concerns, please reach out to me with any questions.