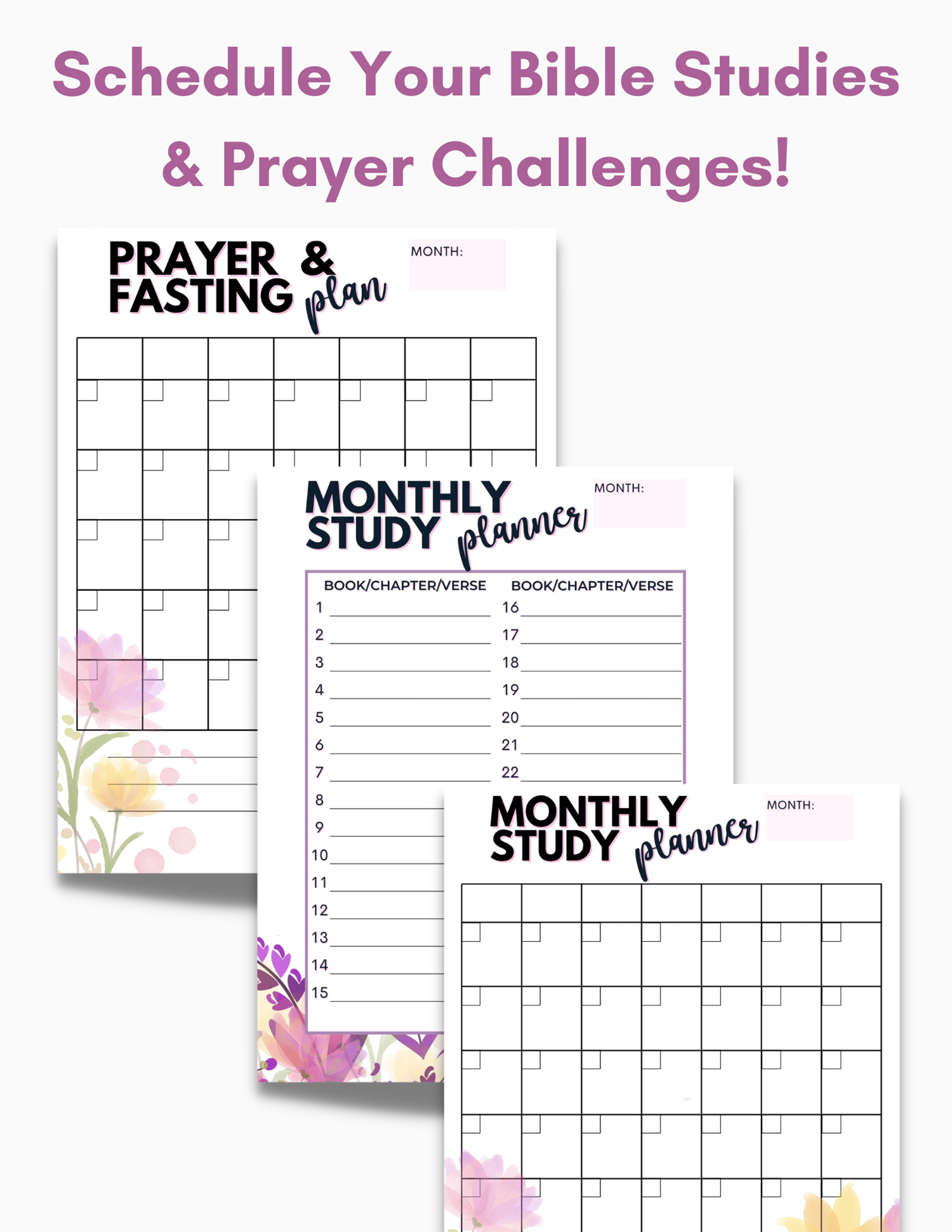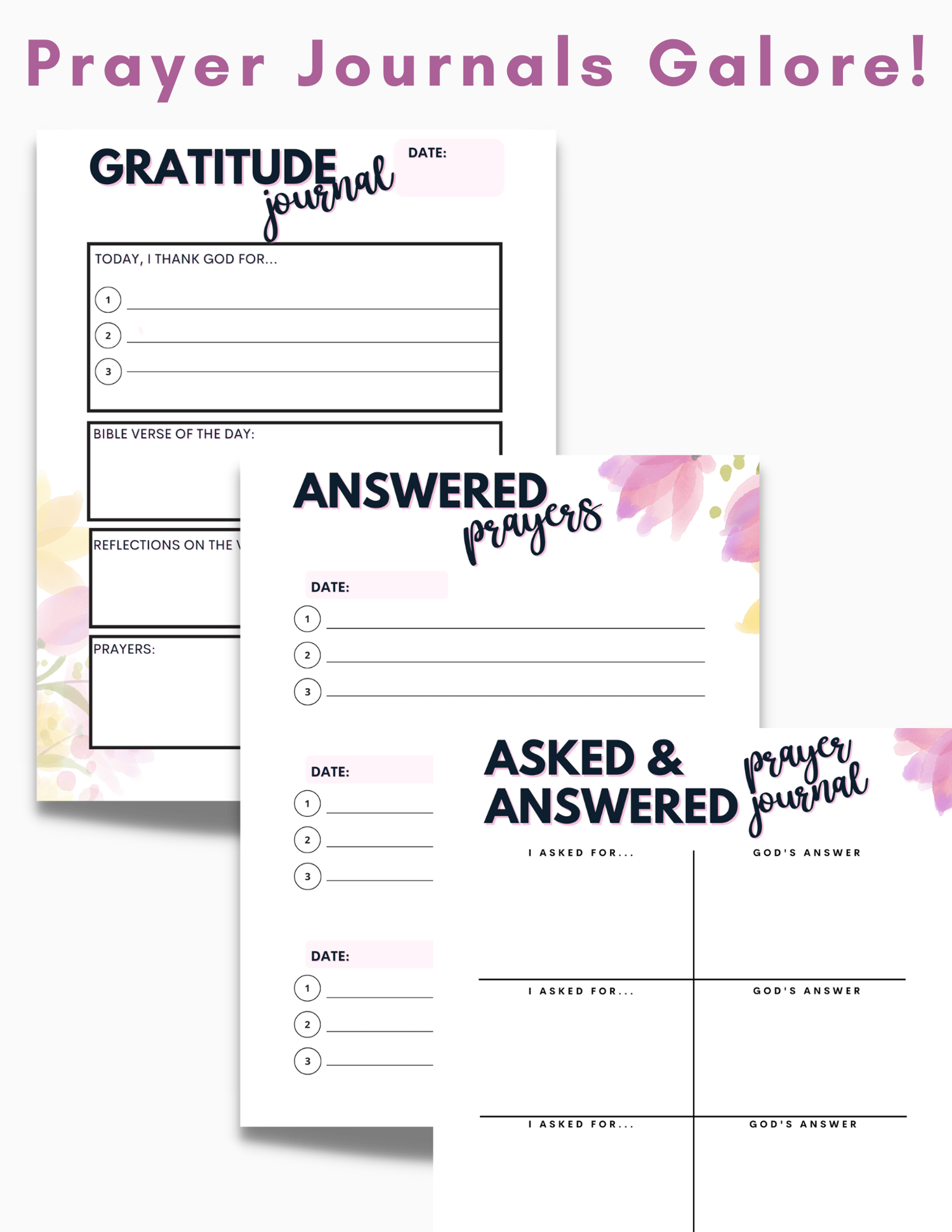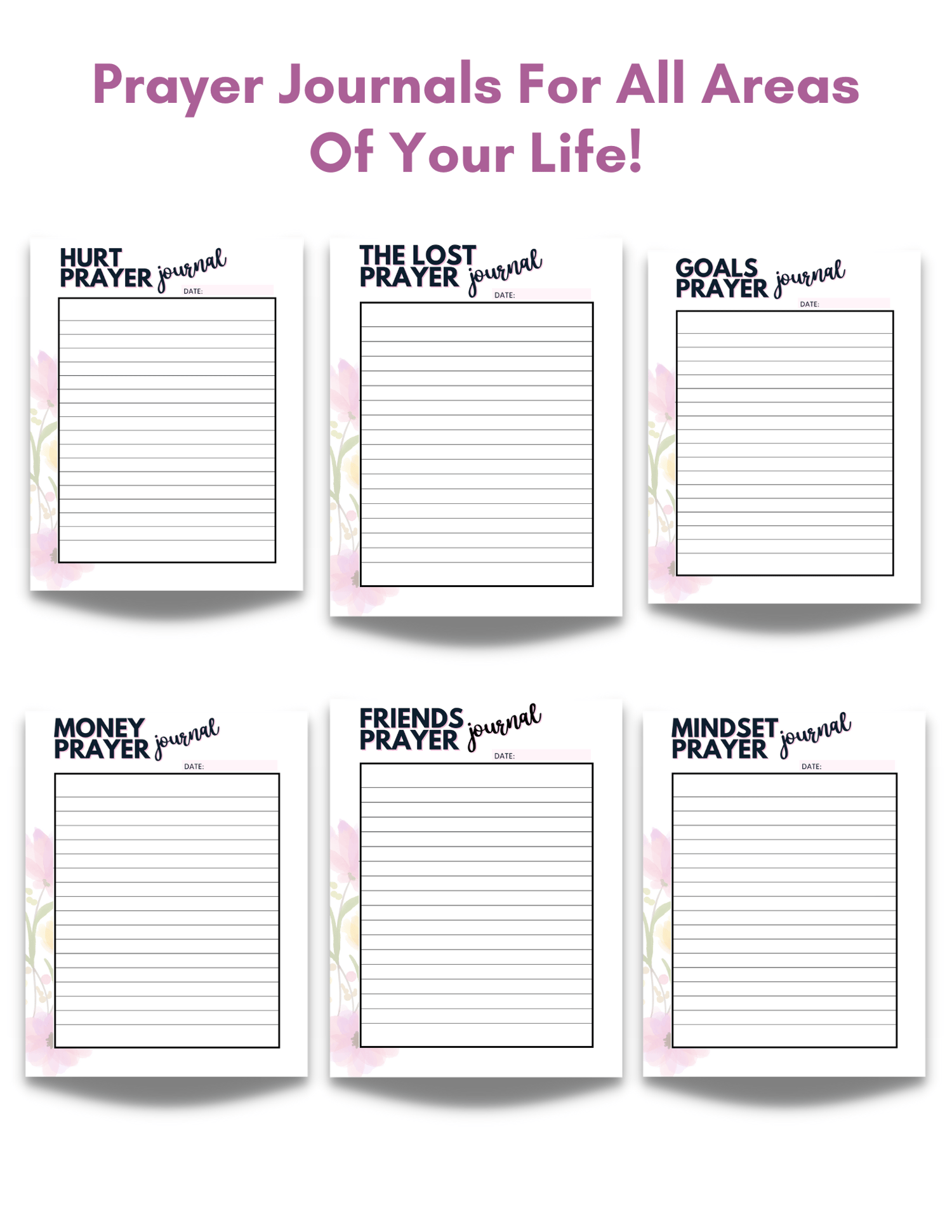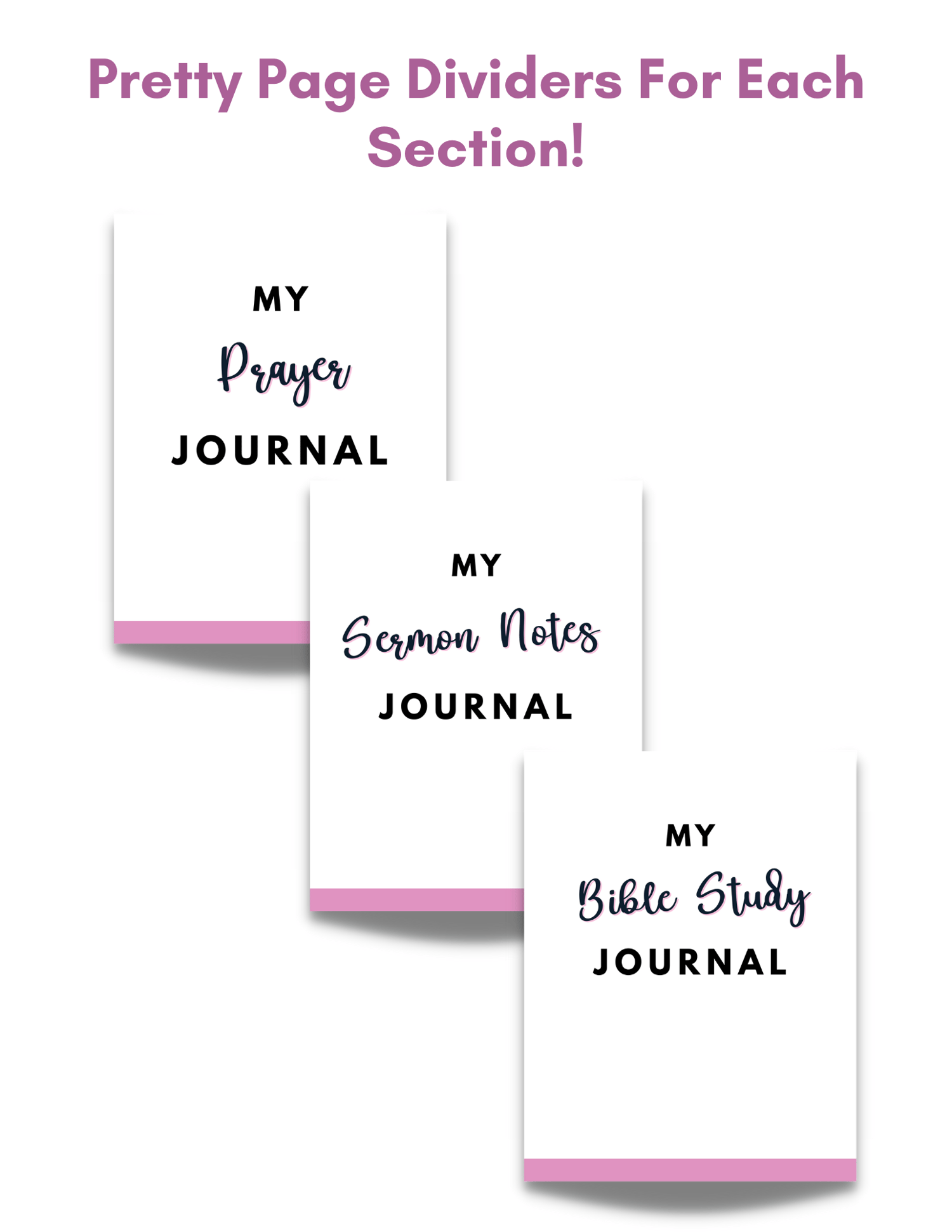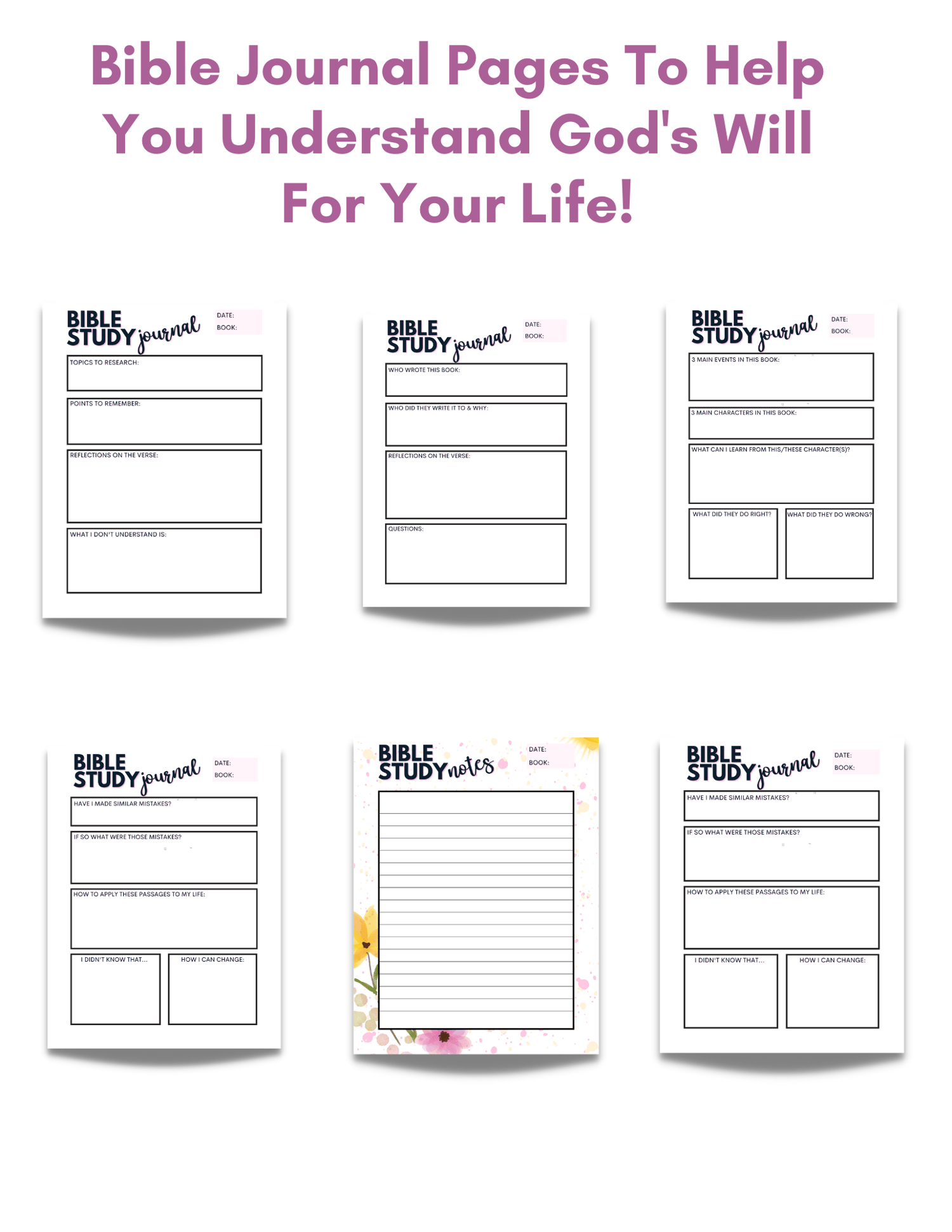 Printable Bloom & Grow Bible Faith Journal, Sermon Notes Journal, & Prayer Faith Journal | PDF | Instant Download
On Sale
3-in-1 Faith Journal Printable To Help You Connect With Christ In These Turbulent Times!
How To Try This Product Free & Get 15% Off The Original Price!

Interested in this Faith Journal but a little on the fence? No worries… I would be too!

That's why I'll let you download a mini version of the Bloom & Grow Faith Journal for free AND get a code for 15% off the original price!  

Just click this link to get your free faith journal and planner! 


---


I really can't explain how much of a difference faith journaling has made in my life. Being able to write down my praises and gratitude as well as my fears, frustrations, and failures, to the Lord, is like having a Christian therapist for rock bottom prices! It's truly amazing the amount of healing you can receive from something as simple as a pen and a piece of paper. I truly feel God's presence when I'm using a faith journal and that makes sense because writing and journaling is a gift from God. That's why I'm excited to share the Bloom & Grow 3-in-1 Faith Journal with you! This faith journal comes with 3 sections: a Bible study journal, a sermon notes journal, and a prayer journal. All 3 sections are designed to help you grow in your Christian faith. The world seems crazy right now (at least to me…maybe I'm alone?) and we all need a way to draw closer to the Lord in the midst of these turbulent and sinful times. I honestly pray that the Bloom and Grow faith journal will help you do just that. But why did I name it the Bloom and Grow journal? Because the more time we spend with God in Bible study and prayer the more we will bloom, grow and mature into the Christians He wants us to be!Let me tell you more about what you're getting!
What You're Getting:
Bible Study Journal:

- Bible Study Journal Page Divider: Keep your faith journal nicely organized with page dividers!

- BIble Study Routine Page: Use this page to build a habit of studying God's word 

- Monthly Study Planner Pages: Schedule and plan your Bible study using the undated calendar and the book/chapter/verse page

- Biblical Affirmations Page: Write down biblical affirmations and read them daily!

- Favorite Verses: Write down your favorite verses for a variety of topics

- Memorize Verses: Use this page to help you with any scriptures you want to memorize 

- Bible study journal pages: I designed these pages to help anyone who wants not only a deeper study of God's word but also wants to learn how to apply what they've read to their own life.
 
- Lined & Unlined Bible Study Notes Pages: Sometimes a passage of the Bible really speaks to you and you want plenty of space to write down what you're thinking. Use these pages for those times. 

Sermon Notes Journal:

- Sermon notes journal page divider

- Sermon notes journal page: Whether it's the preacher at your home congregation or an awe-inspiring sermon you heard online, you can use these pages to remember the highlights, key verses, and ways to apply the sermon to your life. 

- Lined and unlined sermon notes pages included 

Prayer Journal: 

- Prayer journal section divider

- Prayer & Fasting Plan Pages: If you ever do prayer challenges or prayer and fasting challenges, this page will help you plan and schedule it! 

- Weekly Prayer Journal: Use these pages if you have different themed prayer for every day of the week!

 - Scripture Prayer Page: Use this page to write down scriptures that you want to pray over your life or someone else 

- Prayer List: This page can be used to write down a detailed list of prayer requests. Be sure to include the date so you know exactly when you started praying for this specific issue!

- Gratitude Journal: We need to be sure to thank God for all that He has done in our lives and this page helps you do that! And you can also reflect on this page in the future so you never forget His goodness, even when times are hard! 

- Answered Prayer Pages: There are two kinds of answered prayer pages so you can keep track of what God has said to or done for you!

- Daily Prayer Page: I have a daily prayer that I wrote down and you can use this page to do the same. 

- Lined Prayer Journal Pages: The next 8 pages are prayer journal pages that cover specific areas of your life like your goals, health, family, friends, money, and more!


Complete your order today and start your faith journaling journey today!                        


Who Is This For?
- Christians who want a creative way to connect with Christ through prayer and Bible journaling- Struggling Christians who want to breathe new life into their faith walk- New Christians who are looking for a way to grow in their faith- Non-Christians who are interested in exploring a relationship with God but don't know where to start
Ways To Use This Faith Journal & Planner:
- Print it out, punch holes into it, and put it in a binder. Now you have your own faith notebook!

- Put the monthly and weekly pages in a sheet protector so you can reuse them over and over! 

- Take your PDF file to your local print shop. Have them print it on professional paper and bind it! 

- Print and use it as a gift to someone who loves Bible journaling!

More About The Healthy As You Can Store!

Hi, I'm Nicky & I'm the owner of Healthy As You Can. I create digital products for women who want to become a better version of themselves.

If you want to be healthier physically, financially, spiritually, or mentally then I pray that you will find planners and journals that will motivate and inspire you to do just that!

Please keep reading to find out more about our store policies
How To Pay For Your Products
Paying for your items is super easy and secure! You can either use PayPal or a debit or credit card!
How Many Times You Can Download Your Product

2 TIMES 
More Product Details
Size: 
Format: 
How To Order

Click the add to cart button and go through the ordering process. Once that is complete you will get a PDF of your product(s).
Shipping Information
Want faster shipping than Amazon? What's better than 2-day shipping? Getting your product within minutes?With this digital download, as soon as you make your purchase, your product will be available to download instantly!

That's because this is a digital download so you don't have to wait for anything to be shipped to you!
How To Print - Important 
1) Once you download your planner to your computer, open the PDF and click the printer icon.2) Make sure your print options are set to letter size and fit to printable area. That's very important!3) Press print and enjoy! If something doesn't turn out right please email me at the address below so I can help you!
Have questions? 
Please do not hesitate to contact us anytime at contactus@healthyasyoucan.com 
Instant Digital Downloads
Most of the items in my shop are Instant Download. After you have completed your purchases, you will be automatically taken to the purchase page, where you will be able to download your purchased files.

There's no waiting time!  

Due to the nature of digital downloads, all sales are final. No physical items will be shipped. But if you have a problem with any of my products please email me at contactus@healthyasyoucan.com and let me know so we can find a solution.
Colors

Please keep in mind that colors on a monitor may vary slightly from how they appear in person or how they display on one viewing device to another due to the color calibration of your device or monitor.

We try to ensure that the color of the designs you see on the listing sample is the colors you will receive with that particular design.

For the most visually stunning final results, we recommend printing the pages using high-quality paper, such as card stock
Returns & Exchanges
Due to the nature of digital downloads, all sales are final. It's not possible to cancel, return, or exchange.

We do want all of our customers to have the best experience, so if you run into any issues or concerns, please do not hesitate to reach out to me.
Personalized Items

Want a more personalized planner? Contact me (contactus@healthyasyoucan.com) and I will see if we can work together to create what you want (a surcharge will apply). 
Terms Of Usage
This work is copyrighted© by Healthy As You Can. This purchase is strictly for non-commercial, personal use only. You may print and design in your home, business, or a public place but may not resell, reproduce, distribute by electronic means or profit in any way from the design.Thanks for reading our shop policies! If you have any questions or concerns, please reach out to me with any questions.