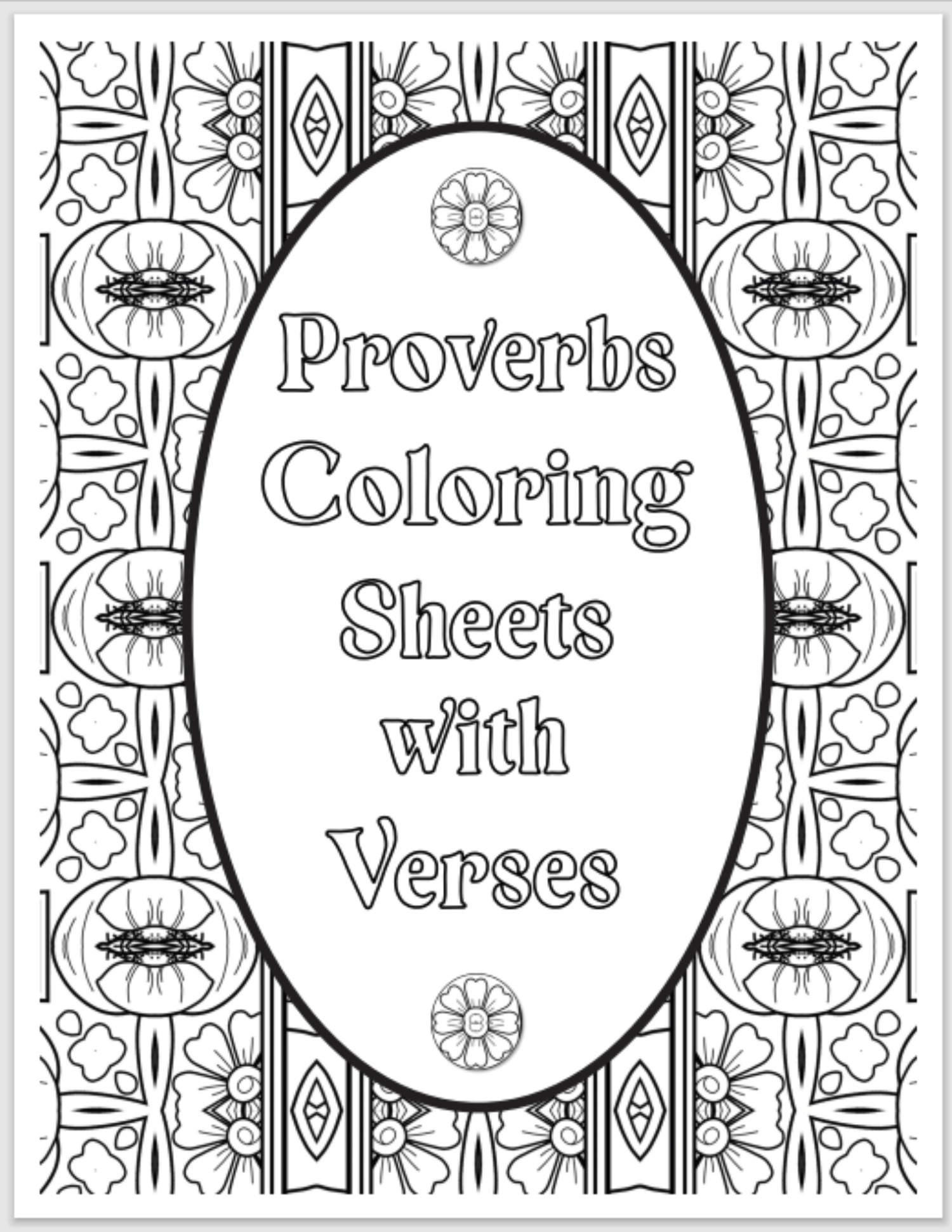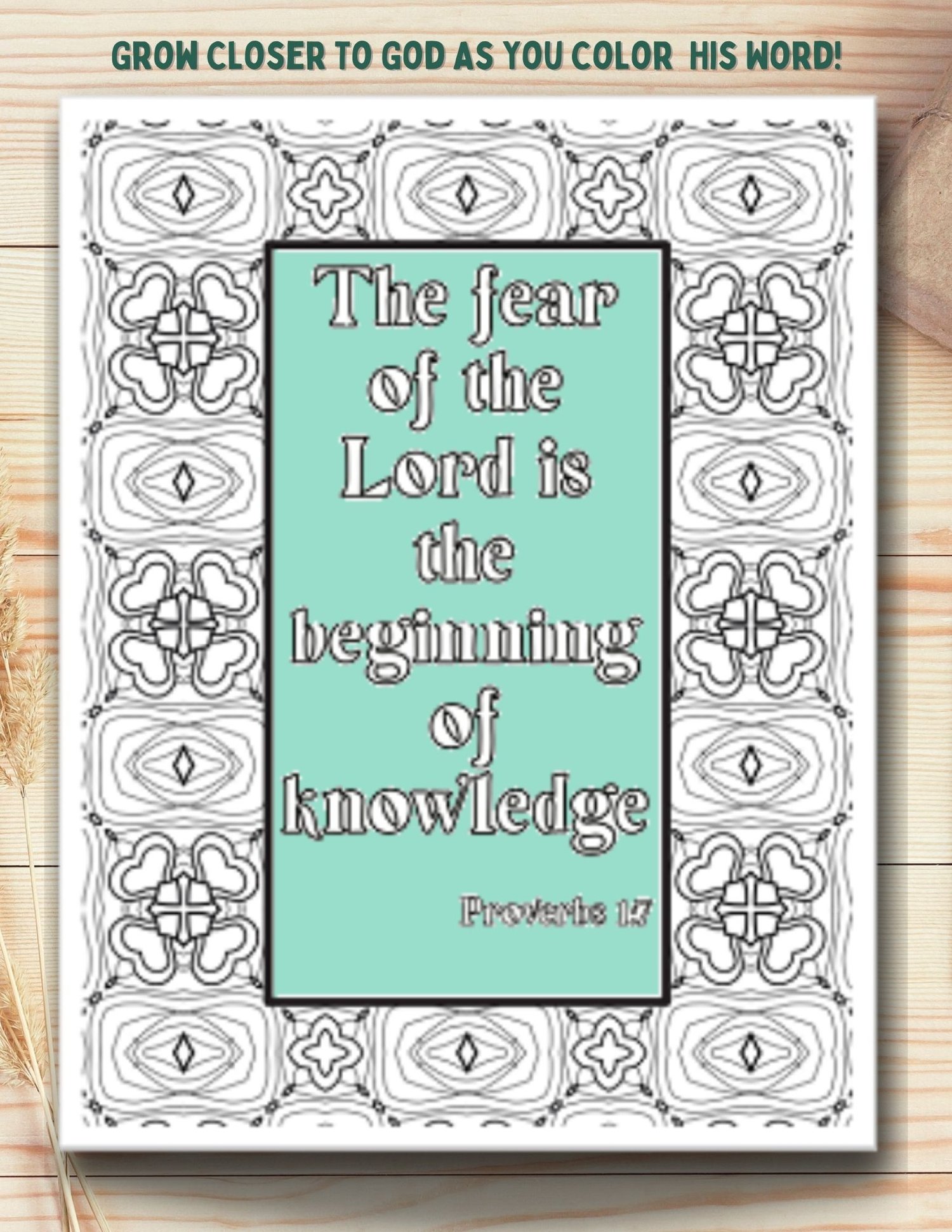 Proverbs Bible Verse 30 Page Coloring Book | PDF| Instant Download 
On Sale
30 Page coloring book of Bible verses from the book of Proverbs to help you spend creative time with the Lord, glean wisdom, and memorize verses!
This 30-page coloring book displays beautifully designed verses from the book of Proverbs that will help you memorize important biblical truths while also reducing stress and anxiety. And what better pages to color than these encouraging and inspiring scriptures that display God's love for his creation?So grab your favorite colored pencils or markers and get ready to spend some quality time with the Lord! Order your Proverbs Bible Verse 30 Page Coloring Book today and spend time with the Lord in a fun new way!
What You Get
- 25+ Adult Bible verse coloring pages from the book of Proverbs (but could also be used by older kids)
Some of the scriptures on the coloring sheets 
Proverbs 15:1- A gentle answer turns away wrath, but a harsh word stirs up anger;Proverbs 15:29- The Lord is far from the wicked, but he hears the prayer of the righteous;Proverbs 16:9- The mind of a person plans his way, but the Lord directs his steps;Proverbs 16:18- Pride goes before destruction and a haughty spirit before stumbling;and so many more!Complete your order today!                        
Who Is This For
- Adults looking for creative ways to spend time with the Lord - Homeschool moms with older children & teenagers
Ways To Use This Proverbs Coloring Book
- Use these adult coloring pages as a way to unwind after work- Color these Bible coloring sheets digitally, print them professionally,  frame them, and hang them on your wall as beautiful artwork- Use these to help your children (or yourself) memorize precious scriptures - Add them to your prayer or Bible study journals
More About The Healthy As You Can Store!
Hi, I'm Nicky & I'm the owner of Healthy As You Can. I create digital products for women who want to become a better version of themselves. If you want to be healthier physically, financially, spiritually, or mentally then I pray that you will find planners and journals that will motivate and inspire you to do just that! Please keep reading to find out more about our store policies
How To Pay For Your Products
Paying for your items is super easy and secure! You can either use PayPal or a debit or credit card! 
How Many Times You Can Download Your Product
2 TIMES 
More Product Details
Size: Letter size Format: PDF that you can print at home
How To Order
Click the add to cart button and go through the ordering process. Once that is complete you will get a PDF of your faith-based coloring pages 
Shipping Information
Want faster shipping than Amazon? What's better than 2-day shipping? Getting your product within minutes?With this digital download, as soon as you make your purchase, your product will be available to download instantly! That's because this is a digital download so you don't have to wait for anything to be shipped to you!
How To Print - Important
1) Once you download your planner to your computer, open the PDF and click the printer icon.2) Make sure your print options are set to letter size and fit to printable area. That's very important!3) Press print and enjoy! If something doesn't turn out right please email me at the address below so I can help you!
Have questions? 
Please do not hesitate to contact us anytime at contactus@healthyasyoucan.com 
Instant Digital Downloads
Most of the items in my shop are Instant Download. After you have completed your purchases, you will be automatically taken to the purchase page, where you will be able to download your purchased files. There's no waiting time.  Due to the nature of digital downloads, all sales are final. No physical items will be shipped. But if you have a problem with any of my products please email me at contactus@healthyasyoucan.com and let me know so we can find a solution
Colors
Please keep in mind that colors on a monitor may vary slightly from how they appear in person or how they display on one viewing device to another due to the color calibration of your device or monitor. We try to ensure that the color of the designs you see on the listing sample is the colors you will receive with that particular design. For the most visually stunning final results, we recommend printing the pages using high-quality paper, such as card stock
Returns & Exchanges
Due to the nature of digital downloads, all sales are final. It's not possible to cancel, return, or exchange. We do want all of our customers to have the best experience, so if you run into any issues or concerns, please do not hesitate to reach out to me.
Personalized Items
Want a more personalized planner? Contact me (contactus@healthyasyoucan.com) and I will see if we can work together to create what you want (a surcharge will apply). 
Terms Of Usage
This work is copyrighted© by Healthy As You Can. This purchase is strictly for non-commercial, personal use only. You may print and design in your home, business, or a public place but may not resell, reproduce, distribute by electronic means or profit in any way from the design.Thanks for reading our shop policies! If you have any questions or concerns, please reach out to me with any questions.